Why Every Nurse Needs a LinkedIn
Posted December 5, 2017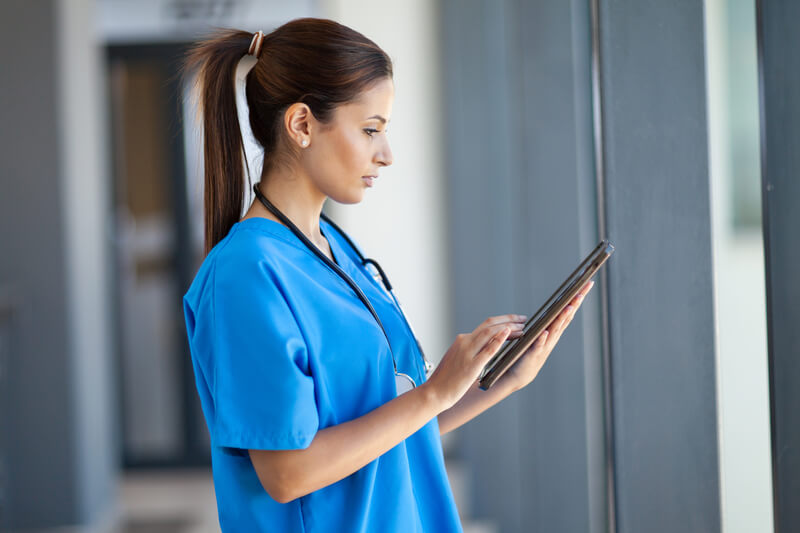 Facebook, Instagram, Snapchat, Twitter — and now another social networking website?
Really, who actually needs another online profile? Well, you.
Nurses, nursing students and other healthcare professionals should sign up for a LinkedIn account for career development. The professional networking website is beneficial to people from all industries. Professionals ranging from recent college graduates to CEOs can join LinkedIn to make connections, showcase their experience and recruit employees.
Why do nurses need a LinkedIn?
If you want to discover new career opportunities, learn about your industry and connect with other nurses, then there's no reason why you should skip out on a LinkedIn profile.
This powerful social media tool basically acts as your digital resume, making your credentials and experience available for potential employers to review. LinkedIn is the perfect place to list all your nursing credentials, detail past experiences and record recommendations. You can even apply for jobs directly on the site. Just make sure you upload a professional-looking headshot — leave your mirror selfies on Instagram.
Here are some of the features you cannot afford to miss out on:
Professional Summary
Let your personality and passion shine through in your professional summary. You can think of this as a general cover letter and bio wrapped up into one.
Your professional summary (Linkedin profile) is one of the first things people will read when visiting your profile, so it is important to have your experience, goals and area of passion clearly written. This will give people an accurate view of who you are.
Be sure to use keywords when you're writing your professional summary. If you're passionate about children or quick on your feet in the emergency department, make sure you write it so your profile shows up when someone searches for relevant terms.
Experience
If you have ever struggled to fit all your work experience onto a one-page resume, then LinkedIn is your solution. Not only can you list all your work experience, but you can finally write out your responsibilities from each job without rolling over to an extra page.
The experience space on your LinkedIn is the perfect spot to showcase all you know and what you have to offer. There are even separate areas to add all your certifications, education and volunteer experience.
At the bottom of your LinkedIn profile, you can add some special skills such as leadership, medical terminology, nursing documentation, HIPAA and clinical research. Your connections can even endorse you for these skills so you can feature your strengths.
Create a Network
You know how you have all those acquaintance "friends" on Facebook? LinkedIn is a much better place for those so-called friendships. Each time you make a connection while volunteering, interning or working, add them to your LinkedIn network. From there, you can see their connections, and even their connections' connections. This creates many opportunities to get introduced to a future employer.
LinkedIn groups are also acceptable places to expand your network. You can chat with other nurses about your industry and discuss issues impacting healthcare.
Here are three helpful LinkedIn groups for nurses:
Find New Opportunities
Thousands of employers list nursing jobs on LinkedIn. You can filter by location and keywords similar to other job search websites, but unlike other job search tools, LinkedIn will also tell you if the position has few applicants. LinkedIn encourages users to be one of the first 10 job applicants so their resume will stand out to employers. Some postings also allow you to easily apply by just sending your LinkedIn profile. However, others will prompt you to fill out their digital applications.
...Or Let Opportunities Find You!
By enabling the "Open to New Opportunities" feature, you'll let recruiters know you're on the job search. They may send you a message to connect, chat and learn more about your career goals. Much better than sending out hundreds of applications, right?
Recommendations
Another unique feature LinkedIn offers is recommendations. Colleagues, classmates and managers can post a recommendation on your page to vouch for your work ethic. These testimonials to your character and know-how can come in handy when employers are looking at your profile before an interview.
These features are only the beginning. Creating a larger network and finding more opportunities takes consistency. Using this tool correctly will help you get noticed so you can climb the nursing ladder of success.
Have you found any other great online resources for nurses? What are your favorite career development strategies? Share your career tips in the comments below.
For more information on boosting your nursing career: