There is a straightforward bit of wisdom to remember in connection with the management of the revenue cycle: Cash is King! 3-6 The organization's cash budget for any given year sets the stage for the control of the revenue cycle. This budget addresses cash needs against projections of cash that is received over the period covered by the budget, usually one year.1-6
The pattern of cash-in versus cash-out is critical because of the need to remain solvent in the short run. The illusion of looking good or solvent "on paper" does little good if the organization is owed impressive amounts of money, and there is not enough cash in the bank to pay current bills or to meet payroll.1-6
There can be circumstances when cash is in extremely short supply. The organization might become more aggressive in collecting accounts receivable or perhaps delay payment of a few bills to more closely match cash receipts. A lack of cash can also lead to short-term borrowing that sometimes results in difficulties in obtaining credit and creates more operating expense because of interest rates.1-6
A solvency ratio denotes a ratio that communicates whether a company's cash flow is enough to meet its short-and long-term liabilities and expenses.
Let's take a moment to explore a Fictional Case Study scenario to incorporate these confusing terms into a "real-world scenario." Here, we will keep it general and call our company, "Healthcare Entity #1." In the below example, we have provided a sample fictional case study, where we have a typical revenue cycle for any healthcare practice. For the sake of argument, let us assume all marketing and other considerations are working sufficiently to bring patients in the door! To that end, how would a healthcare business manager assess and then implement a healthy revenue cycle?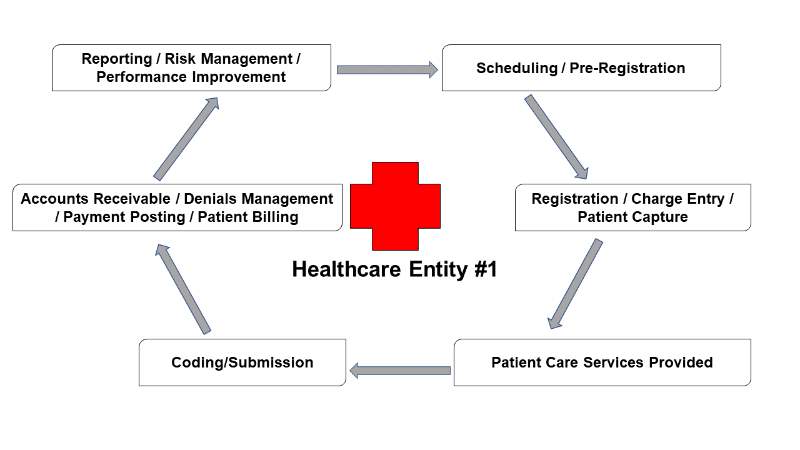 Figure 1. Original Figure by J. Winchester Ph.D. Proposed Revenue Cycle for a Fictional Case Study of a Generic Outpatient Clinic or Small Healthcare Entity.
Quality of care is of the utmost priority, and it is prudent to continue to seek continuing education on the way to improve the quality of care because it will enhance revenue.1-6 However, it is incumbent upon the qualified healthcare business manager/administrator to pay close attention to the company's financials as well as quality control. The healthcare business manager needs to stay on top of the level of revenue they are bringing in. The organization that does not keep on top of the revenue cycle could find themselves scrambling to remain viable while another healthcare entity in their market are thriving.1-6
It is for this reason why it is so important to understand the healthcare revenue cycle and the steps it entails. Revenue cycle management is the term given to a financial process, encompassing the management of funds as well as collecting payments from the treatment you offer your patients. 1-6
The revenue cycle begins with Scheduling/Pre-Registration steps (see Figure 1). The pre-registration can improve the patient's experience, collect essential information before patient arrival to determine eligibility and benefits. Some software and technology expenses will be necessary to establish a good IT team. The practice will need team members who are well versed in using dedicated software for your clinical practice, your community, and your needs.1-3
This consideration continues well into the Registration, Charge Entry, and Patient Capture Process. A key element in the Patient Capture Process and Charge Entry is the pre-authorization step (See Figure 1). This step can significantly improve our Fictional Case Study/Healthcare Entity #1's revenue cycle! Pre-authorization is defined by the US government as a decision by a health insurer or plan that prescription medication, procedure, service, or equipment is medically necessary. The exception to pre-authorization would be in cases of a medical emergency. It is important to remember that pre-authorization for a procedure or medicine does not necessarily mean that the insurer will cover its cost, though. Patients and providers have to double-check if there is any doubt about coverage. Going through this process before the patient's arrival improves their experience and improves wait times and efficiency of patient flow. The method also helps ensure that the healthcare entity gets paid.1-3
The process of verifying benefits eligibility is no fun, and sometimes it is a whole lot of the drudgery by a healthcare entity's front office staff. One way to improve this process and improve the revenue cycle might be in use of medical office software will include automatic checking of patient eligibility via the internet over secure channels. By using the software, the office staff is better able to manage their day, hit their goals, and overall, your department or healthcare entity's goals.1-3
The next steps in the revenue cycle include providing the services and coding/submitting billing for those services (see Figure 1). Payment will not be forthcoming until our Fictional Case Study/Healthcare Entity #1 properly submits claims for the work its clinical staff provided for the patients. Practice management software is invaluable in this situation. It is used to submit claims automatically, including the option to do this in batches. Since human error is always a factor in submitting claims, a healthcare business manager may want to deploy software with an option to detect mistakes. The manager can explain the errors to the staff so they can be fixed and immediately resubmit the claim.1-3 It can also be helpful for the healthcare business manager to seek a third-party consultant on issues related to coding, billing, scheduling, accounting, and corporate structure. There are wide ranges of coding/billing third-party systems out there, as well as virtual means to communicate with these experts. These experts can be available to you online, over the phone, via text/mobile chat window, or video chat. In many instances, these coding/billing systems can include electronic medical record (EMR) software and ways to better communicate with your patient!
Accelerating the flow of revenue within the healthcare entity's organization will be easier when the healthcare business manager gains tighter control over claims and have tools in place to weed out common errors. After the claim is successfully submitted and reviewed, the payment is posted and can be paid by the patient. The practice management software, as well as coding and billing software, can help generate billing statements. The software can also help by sending messages to patients electronically with a "click here" to pay the option to encourage them to pay more quickly. Billing over networks like this is done via Electronic Data Interchange (EDI).1-3 A prudent healthcare business management strategy could include collecting any outstanding fees that may be related to the services rendered before the patient exiting the facility.
One of the toughest steps in the revenue cycle is the Accounts Receivable/Denials Management/Payment Posting and Patient Billing (see Figure 1). For example, a healthcare business manager may ask how often claims are denied for services rendered out of Healthcare Entity # 1? If Healthcare Entity #1's quarterly reports are showing a downturn in revenue because of too many denied claims, it's time to investigate the matter! Properly executed denial management will boost earnings if money has lately been slow because of problematic claims. Including this process of denial management in the revenue cycle can help to recover revenue that might otherwise have remained overlooked because of insurance information filed incorrectly. A savvy healthcare business manager/administrator might uncover patterns, such as denied claims when certain people are working together or billing problems for specific procedures. 1-3
Any healthcare entity that exists without detailed reports is a healthcare entity that can have hidden problems that may be growing worse.1-3 The healthcare business manager/administrator needs to generate a range of customized reports. These reports should include financial data, management information, and key performance indicators to see if the team is meeting benchmarks. A successful healthcare business manager that employs these types of software upgrades to help with the revenue cycle will see their healthcare practice work more productively as a result! 1-6
Key Points About our Fictional Case Study/Healthcare Entity's Revenue Cycle:
Revenue cycle management is a complicated process that we need to be familiar with to run Healthcare Entity #1 successfully.
There are some necessary revenue cycle management steps Healthcare Entity #1 will need to take, with options to accomplish this with a third party or taking care of it in-house with our software system.
Managing the revenue cycle in a healthcare environment begins with pre-authorization of patients since we cannot offer services without taking care of this crucial task.
We can avoid billing issues after providing services by having a policy to verify eligibility and benefits as a golden rule in the pre-registration process.
It's best to submit claims using a system that has a denied claims manager, so Healthcare Entity #1 can fix errors quickly and get paid in a more timely manner.
Healthcare Entity #1's revenue cycle management software should make it easy to customize financial reports for the organization so it can get an overview of the state of our practice.