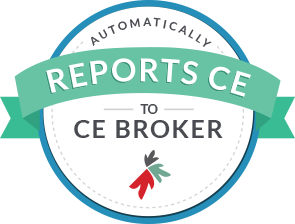 West Virginia Registered Nurses (RN) and Advanced Registered Nurse Practitioner (ARNP) can now automatically report CEs on CEUfast through CE Broker, a nationwide CE tracking and management system.
Once you enable automated reporting, your CEs will be electronically sent to the West Virginia Board of Registered Nurses immediately after you pass a course test.
On November 1, 2018, the West Virginia Board of Registered Nurses announced a partnership with CE Broker to enable nurses to track and report their required CEs online and determine their compliance with RN license and APRN license renewal requirements.
CE Broker is the official CE tracking system for more than 1.7 million licensees nationwide. Now nearly 30,000 West Virginia professional nurses can skip the hassle of CE reporting and let this online service do the work.
The fast and efficient electronic reporting streamlines the renewal processes for nurses, eliminating reporting stress.
Getting Started:
To enable the feature on CEUfast, go to the "Edit Profile" section of your CEUfast account to add your West Virginia nursing license number. Remember, the license information on your CEUfast account must match exactly with the information on file with CE Broker for your license to be validated. Be careful entering in this information so ensure your credits will be accurately reported.
Once your license has been validated, your CEs will automatically submit to CE Broker on CEUfast following successful completion of a test. Need more help enabling CE Broker automated reporting? Find step-by-step directions here.
The West Virginia Board of Registered Nurses RN and APRN CE requirements for license renewal are as follows:
RN Requirements:
12 contact hours every annual renewal period
Completion of at least one hour (three hours initially) of continuing education in Drug Diversion Training and Best Practices in Prescribing Controlled Substances (as part of the current 12-hour annual CE Requirement)
At least two hours in mental health conditions common to veterans and their families (as part of the current 12-hour annual CE Requirement)
APRN Requirements:
24 contact hours every 2 years
12 hours in pharmacotherapeutics related to licensee's scope of practice (required for prescriptive authority)
12 hours in the clinical management of patients
CEUfast, Inc. is a nationally accredited provider of continuing nursing education by the American Nurses Credentialing Center's Commission on Accreditation.
Getting ready to study for your next course? Browse the full course list to see the hundreds of courses CEUfast has to offer. You can search through more than 150 courses by topic, profession or state requirement, then keep track of your hours through your account.
For only $30 per year, customers can purchase an annual subscription for unlimited access to the CEUfast course library. You can access unlimited contact hours anytime, anywhere on our mobile-friendly website.
To sign up for an account, visit ceufast.com/starttoday.