10 Steps to Renew Your RN License with
Georgia Board of Nursing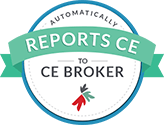 CEUfast can automatically report to CE Broker when you pass an online CE course.
Step 1. Complete your CE requirements and submit to CE Broker. You have two options for submitting your CE documentation to Georgia Board of Nursing through CE Broker.
Option 1: Connect your CEUfast account to CE Broker for automatic reporting.
Once you enable automated reporting, your CEs will be electronically sent to the Georgia State Board of Nursing immediately after you pass an online CE course test. More information on connecting your CEUfast account to CE Broker below.
How to Connect Your CEUfast Account to CE Broker
To enable the feature on CEUfast, go to the "Edit Profile" section of your CEUfast account to add your Georgia nursing license number.
NOTE: The license information on your CEUfast account must match exactly with the information on file with CE Broker for your license to be validated. Be careful entering in this information so ensure your credits will be accurately reported.
Once your license has been enabled, your CE documentation will automatically submit to CE Broker on CEUfast following successful completion of a test.
For more information on connecting your CEUfast account to CE Broker, click here.
OR
Option 2: Register with CE Broker to create your free account and upload documentation of completion of one of the five CE options (more on these below). Click here to learn more about setting up a CE Broker account.
Step 2. Enter your user ID and password to log into the online renewal system.
NOTE: If you do not already have a user ID and password, you may register on this page.
Step 3. Once you have logged into the renewal website, you will see your license information summary. Click "Renew License" from the menu on the left hand side of the page.
Step 4. Select the license you would like to renew and click "Continue."
NOTE: You must renew each license or authorization individually. Advanced Practice Registered Nurses must renew their RN license first before completing the renewal process for the APRN authorization.
Step 5. Please carefully read the instructions regarding any required renewal documentation. Once you have read all instructions select the link "Click here to begin" and proceed with your license renewal application. You will be asked to complete a short survey to provide the Board with workforce data.
To get started on your license renewal application, click here.
Step 6. Update your personal and license demographic information. Make sure you review the information carefully. Take a second to update your email address as well.
Step 7. Read and answer all renewal questions carefully.
Step 8. Review the transaction summary to check all information for accuracy. Read through your answers to the renewal questions and verify demographic information.
Step 9. Enter your payment information using the instructions provided to pay the non-refundable license renewal fee of $65.
Step 10. Print out a physical copy of the receipt for your records. Use the "Licensure Search" feature on the Georgia Board of Nursing website to verify that your license status is active. Also make sure your license expiration date was updated.
If your renewal is not completed within five business days, contact the Professional Licensing Boards Call Center at 478-207-2440.
Always keep a copy of all documentation that you submit to the Georgia Board of Nursing.
For more information on renewing your RN license visit the Georgia Board of Nursing renewal instructions.