Most nursing licensure boards accept courses that are provided by organizations that are accredited by other state licensure boards, by ANCC, or by organizations that have been designated as an approver of continuing education by ANCC.
However, California requires that courses taken within the state must be accredited by that state's licensure board. Florida requires that certain courses, AIDS and Domestic Violence, be provided by organizations that are accredited by the Florida Board of Nursing.
CEUFast, Inc. is accredited to provide nursing continuing education by the: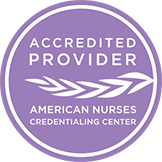 CEUFast, Inc. is accredited as a provider of continuing nursing education by the American Nurses Credentialing Center's Commission on Accreditation.
Florida Board of Nursing, FBN #50-353.
California Board of Registered Nursing, CEP#13509.
Approved Provider for online courses for Certified Nurse Assistant Continuing Education by the California Department of Public Health, Aide & Technician Certification Section NAC #7032.
Approved Provider for Certified Nurse Assistants by the District of Columbia Board of Nursing Assistive Personnel. Provider number #50-353.
Alabama Board of Nursing #ABNP1485.
Kentucky Board of Nursing #7-0085.
CEUFast is approved for the following courses:
CEUFast is also approved to provide specific courses for the following professions:
The following is a list to assist you in determining your licensure requirements. For more detail, please contact your licensure board. For general requirement information and licensure board contact information visit our State Board FAQ.
States Requiring Continuing Education
RN Hours Required
LPN Hours Required
CEUFast Hours Accepted
Alabama
24
24
All
Alaska
30
30
All
Arizona
None
None
--
Arkansas
15
15
All
California
30
30
All
Colorado
None
None
--
Connecticut
None
None
--
Delaware
30
24
All
District of Columbia
24
18
All
Florida
24
24
All
Georgia
30
20
All
Hawaii
None
None
--
Idaho
None
None
--
Illinois
20
20
All
Indiana
None
None
--
Iowa
36
36
All
Kansas
30
30
All
Kentucky
14
14
All
Louisiana
15
15
All
Maine
None
None
--
Maryland
None
None
--
Massachusetts
15
15
All
Michigan
25
25
All
Minnesota
24
12
All
Mississippi
None
None
--
Missouri
None
None
--
Montana
24
24
All
Nebraska
20
20
All
Nevada
30
30
All
New Hampshire
30
30
All
New Jersey
30
30
All
New Mexico
30
30
All
New York
3
3
All
North Carolina
30
30
All
North Dakota
12
12
All
Ohio
24
24
All
Oklahoma
24
24
All
Oregon
7 hour pain mngt
N/A
Puerto Rico
36
36
12
Pennsylvania
30
0
All
Rhode island
10
10
All
South Carolina
30
30
All
South Dakota
None
None
--
Tennessee
None
None
--
Texas
20
20
All
Utah
30
30
All
Vermont
None
None
--
Virginia
30
30
All
Virgin Islands
15
15
All
Washington
45
45
All
West Virginia
12
24
All
Wisconsin
None
None
--
Wyoming
20
20
All