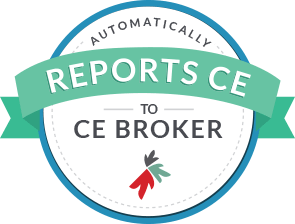 CE Broker can now automatically receive your reports electronically from CEUfast.
To enable this feature, just add your South Carolina nursing license to your account and CEUfast will automatically report any credits earned during an active subscription to CEBroker immediately following successful completion of a test.
CE Broker, a nationwide education tracking and management system, partnered with the South Carolina Board of Nursing in late March to provide instant verification at the click of a button to track course completions.
The introduction of fast, efficient and stress-free electronic reporting streamlines the process for nurses continuing their education.
In a press release, CE Broker CEO Brian Solano compared electronic reporting to the simplicity of Turbo Tax.
"You can choose to do your taxes on your own, but why do that when there are so many great inexpensive services out there that make it easy?" Solano said. That concept can be applied to continuing education through hassle-free services, he said.
To make things even more convenient, CE Broker offers services on the go. Nurse professionals can use the free iPhone and Android apps to stay updated on their requirements, check CE Compliance status and reporting continuing education hours.
South Carolina RNs, LPNs and ARNs must complete at least one of the following through a board-recognized provider:
30 contact hours
Maintenance of certification or re-certification
Verification of competency and number of hours practiced as evidenced by employer certification
CEUfast, Inc. is a nationally accredited provider of continuing nursing education by the American Nurses Credentialing Center's Commission on Accreditation.
Getting ready to study for your next course? Browse the full course list to see the hundreds of courses CEUfast has to offer.
Customers can purchase annual subscriptions for unlimited access to CEUfast's course library. To sign up for an account, visit ceufast.com/starttoday