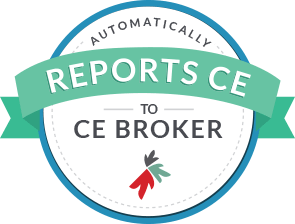 Say goodbye to those headaches and anxiety you feel each time you have to report continuing education (CE) requirements. Good news — the days of remembering to report CEs are in the past.
Say hello to the new game changer in the Arkansas nursing industry: automatic electronic CE reporting.
Arkansas-licensed nurses can now automatically report CEs on CEUfast through CE Broker, a nationwide CE tracking and management system.
Once you enable automated reporting, your CEs will be electronically sent to the Arkansas State Board of Nursing immediately after you pass a course test.
In October 2017, the Arkansas State Board of Nursing announced a partnership with CE Broker to streamline CE reporting. For the past 13 years, CE Broker has provided instant verification at the click of a button to track course completions for more than 1.3 million licensed professionals. Now nearly 48,000 Arkansas-based nurses can skip the hassle of CE reporting and let this online service do the work.
The fast, efficient and stress-free electronic reporting streamlines the process for nurses so they can kick back, relax and enjoy some free time when they aren't caring for patients.
Getting started
To enable the feature on CEUfast, go to the "Edit Profile" section of your CEUfast account to add your Arkansas nursing license number. Remember, the license information on your CEUfast account must match exactly with the information on file with CE Broker for your license to be validated. Be careful entering in this information so ensure your credits will be accurately reported.
Once your licensed has been enabled, your CEs will automatically submit to CE Broker on CEUfast following successful completion of a test. Need more help enabling CE Broker automated reporting? Find step-by-step directions here.
The Arkansas State Board of Nursing points out the license renewal process and CE requirements have not changed.
Active LPNs, RNs and APRNs must complete the continuing education requirement by one of these methods prior to each bi-annual renewal.
15 contact hours of appropriately accredited practice-focused activities,
Hold a current nationally recognized certification/recertification,
Completed a minimum of one college credit hour course in nursing with a grade of C or better during licensure period.
Note: Reinstatement from inactive status/late renewals of less than five years must complete 20 contact hours of appropriately accredited activities. For each renewal, advanced practice registered nurses with prescriptive authority must complete an additional five contact hours of pharmacotherapeutics related to their specialty certification.
CEUfast, Inc. is a nationally accredited provider of continuing nursing education by the American Nurses Credentialing Center's Commission on Accreditation.
Getting ready to study for your next course? Browse the full course list to see the hundreds of courses CEUfast has to offer. You can search through more than 130 courses by topic, profession or state requirement, then keep track of your hours through your account.
For only $30 per year, customers can purchase an annual subscription for unlimited access to the CEUfast course library. You can access unlimited contact hours anytime, anywhere on our mobile-friendly website.
To sign up for an account, visit ceufast.com/starttoday.