Persistent, severe hypertension can occur antepartum, intrapartum, or postpartum. Two severe BP values (≥ 160/110) taken 15-60 minutes apart require treatment within 60 minutes of the 2nd elevated BP. The acceptable treatments for severe BP are intravenous (IV) labetalol, intravenous hydralazine, or oral nifedipine. One medication should be chosen and initiated (see table 2).1
Table 2: Antihypertensive Medications
Labetalol (20, 40, 80, 80 mg IV* over 2 minutes, escalating doses, repeat every 10 minutes or 200 mg orally if no IV access); avoid in asthma or heart failure, can cause neonatal bradycardia
Hydralazine (5-10 mg IV* over 2 minutes, repeat in 20 minutes until target blood pressure is reached)
Repeat blood pressure every 10 minutes during administration
* Maximum cumulative IV administered doses should not exceed 25 mg hydralazine; 220 mg labetalol in 24 hours.
Intravenous hydralazine may increase the risk of maternal hypotension. Intravenous labetalol may cause neonatal bradycardia and should be avoided in women with asthma, heart disease, or congestive heart failure. Nifedipine has been associated with an increase in maternal heart rate and less risk of overshoot hypotension. No significant changes in umbilical blood flow have been observed with the use of either labetalol or hydralazine, and outcomes are similar for both drugs. No significant changes in the uteroplacental blood flow or the fetal heart have been noted with the use of immediate-release oral nifedipine for the treatment of severe pregnancy-induced hypertension. However, immediate-release oral nifedipine should not be given sublingually because of risk of hypotension.1
Using an algorithm similar to what is shown in table 3 can improve treatment times and patient outcomes.1
Table 31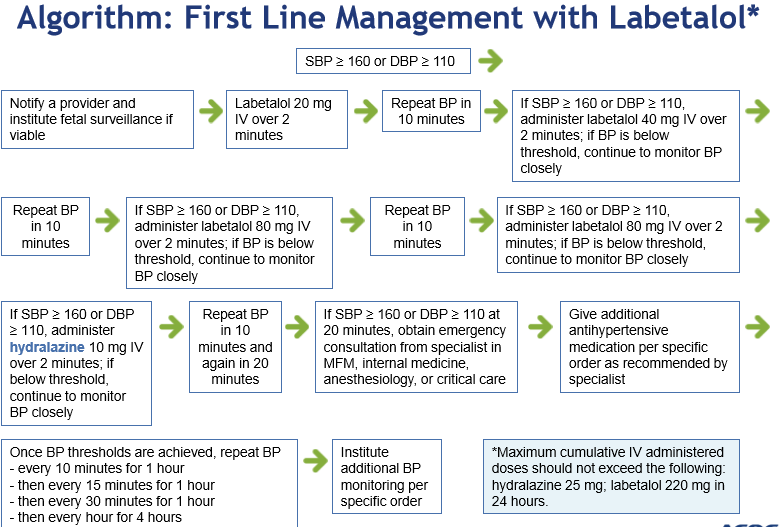 Magnesium sulfate may also be administered as a central nervous system depressant, to decrease the risk of seizures. While magnesium may decrease BP, it is not used as an antihypertensive. Myasthenia gravis is a contraindication to giving Mag sulfate.
Magnesium is usually given as a 4 to 6gm loading dose followed by 2 gm/hr IV. This may be started antepartum or intrapartum and continue for 24 hours after delivery. The therapeutic range: 4.8-8.4. Serum levels are not indicated unless signs and symptoms of toxicity or renal insufficiency. Before starting mag sulfate, a BUN and creatinine should be drawn to assess renal function.4 Magnesium toxicity is dangerous and can cause severe complications, such as renal failure or death. The RN must perform proper assessments, which include checking for headache, visual changes, altered level of consciousness. Vital signs need to be monitored, as well as reflex status, and intake and output. Provider should be notified of any of the following signs of magnesium toxicity: depressed or absent reflexes, respirations less than 12 per minute, or urinary output of less than 30 mL per hour or less than 120 mL in four hours.4 Early signs of magnesium toxicity are warm/hot "all over", flushing, increased thirst, diaphoresis, depressed reflexes, hypotension, or flaccidity. Late signs are CNS depression, increased drowsiness, lethargy, slurring of speech, respiratory paralysis, or circulatory collapse. The antidote for magnesium sulfate toxicity is 10% Calcium Gluconate 1-gram IV push over 3 minutes.
An eclamptic seizure would include the same antihypertensives, magnesium sulfate, and also anticonvulsants.