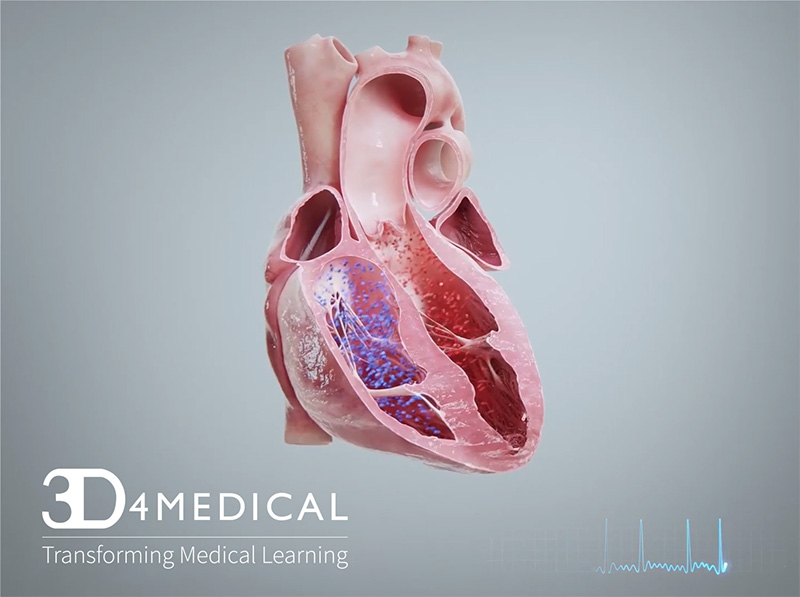 CEUFast is excited to announce the addition of 3D4Medical animations to our cardiology continuing education courses.
Traditionally, human anatomy is taught using two-dimensional anatomy illustrations and descriptions, which can be hard to visualize. The complexities of the human body are better understood when they can be viewed in three-dimensions which is why we are augmenting our courses with 3D visualizations from 3D4Medical. 3D4Medical is an award winning medical and fitness software developer which has been featured by both Apple and Microsoft. Their software allows users to view and interact with high quality anatomical structures in three dimensions. In many cases, animations can be viewed to further aid the learning experience.
A prime example are the animations we have added to our EKG course. These animations feature a diagnosis specific EKG synced to a 3D animation of the heart function. You can see precisely the muscle and electrical action as it correlates to each stage in the rhythm strip.
Julia Tortorice, CEUfast Lead Nurse Planner said "I wish 3D4Medical's apps had been around when I was learning Cardiology. The animations link physiological functions with diagnosis. It creates an "Oh! Now I understand" experience."
CEUFast courses currently providing 3D4Medical videos and learning tools:
3D4Medical provides comprehensive apps to enrich their users learning experience. Such as their "Complete Heart" app, which allows the user to strip back the layers of the heart to better examine every component and simulate real world scenarios to visually experience the effects on the heart. The "Complete Anatomy" app, provides a full body experience, allowing you to interact with over 6,5000 structures in 3D. Both apps are an excellent anatomical reference and are available on multiple platforms (iOS, iPhone, iPad, Windows and Mac).
CEUfast is proud to promote 3D4Medical's Complete Anatomy as an official affiliate. Our affiliation provides our users with a substantial discount of 3D4Medical apps and CEUfast is compensated with a small referral commission.
CEUFast is a nationally accredited provider of continuing nursing education by the American Nurses Credentialing Center's Commission on Accreditation and is committed to providing their users with top quality content which enriches the learning experience. CEUFast encourages feedback from their users regarding these additions and is excited to start featuring additional 3D4Medical content.