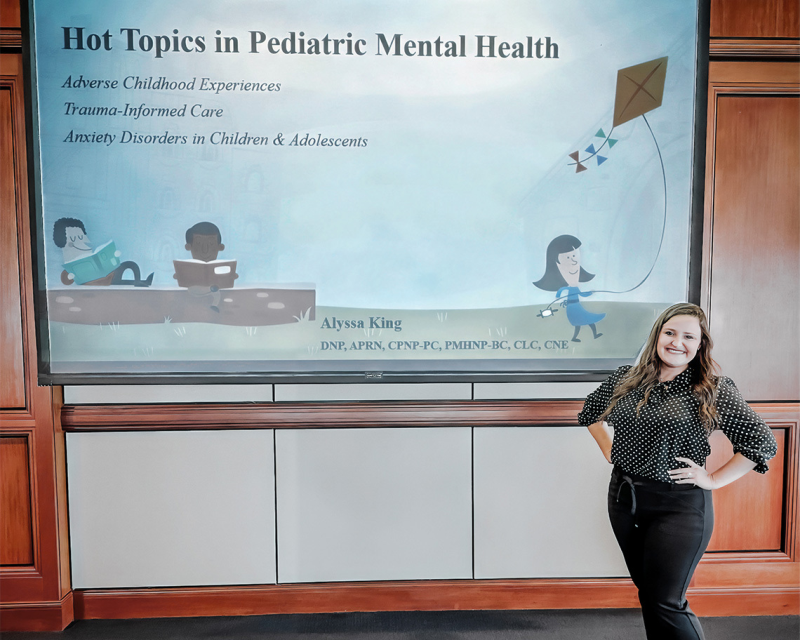 One of CEUfast's Nurse Planners and Authors, Dr. Alyssa King, recently presented at the Florida Gulf Coast National Association of Pediatric Nurse Practitioners (NAPNAP) Pediatric Mental Health Dual Workshop Symposium, where her presentation touched on Adverse Childhood Experiences (ACEs), trauma-informed care (TIC), and pediatric anxiety disorders. The symposium hosted various guest speakers and mental health organizations from around the local area, all advocating for children during a time when children's mental health has become an increasingly important topic of discussion and concern.
"It was great to see the level of engagement and passion from all attendees at the symposium," said Alyssa. "Every discussion, every question raised, and every shared experience highlighted a shared commitment to advancing pediatric mental health care, which is critical now more than ever."
Dr. King's presentation, titled "Hot Topics in Pediatric Mental Health," resonated deeply with attendees as she dissected complex subjects understandably and engagingly, including a brief meditation activity that highlighted the importance of mindfulness. Her presentation highlighted the urgency of incorporating ACEs awareness and trauma-informed strategies into pediatric care and how doing so can help foster safety, autonomy, empowerment in pediatric patients and their families. In addition, her presentation provided a review of anxiety disorders commonly seen in children and adolescents, with the respective assessment components, screening tools, and management recommended to mitigate pediatric anxiety.
The symposium also showcased local mental health initiatives and resources for children. These organizations demonstrated the breadth of available support for children grappling with mental health issues, underscoring the importance of collaboration between practitioners, families, and community support systems.
"I was so fortunate to have had this opportunity to share these topics of which I am so passionate," said Alyssa. "Given the state of crisis we are in as a country regarding mental health, especially within the pediatric population, I came out of this symposium feeling inspired that great work is being done to further educate and advocate for this special population of patients."
The Florida Gulf Coast NAPNAP Pediatric Mental Health Dual Workshop Symposium was a successful event that shed light on critical issues surrounding children's mental health. The community's commitment to advocating for children was evident throughout the day, underscoring the importance of continued conversation and action in this crucial area.
Alyssa King Nurse Planner, DNP, APRN, CPNP-PC, PMHNP-BC, CLC, CNE
Dr. Alyssa King has been a Registered Nurse since 2014. She has been working as the Nurse Planner and author for CEUFast, Inc. since 2021.
Dr. King is a four-time alumna of the University of South Florida (USF), earning her Bachelor of Science in Nursing (BSN) in 2014, as well as her Post-Masters Nursing Education Certificate, her Master of Science in Nursing (MSN) as a Pediatric Primary Care Nurse Practitioner (PNP), and her Doctor of Nursing Practice (DNP) in the specialty of pediatrics in 2019.
Dr. King worked as a Neonatal Intensive Care (NICU) nurse for seven years at St. Joseph's Women's Hospital's Level IV NICU. She obtained her lactation counselor (CLC) certification in 2018 to go a step further in providing breastfeeding support for the mothers and babies in her care.
Dr. King is very passionate about the educational development and career advancement of both future and practicing nurses. Dr. King joined the USF College of Nursing as adjunct faculty for the Undergraduate BSN Program in Summer 2020. In late 2021, Dr. King became a certified nurse educator (CNE). Dr. King also recently completed the post-masters psychiatric/mental health nurse practitioner (PMHNP) graduate certificate program at the University of Miami in December 2022. Dr. King is now dual-certified as both a primary care pediatric nurse practitioner (PNP) and a psychiatric-mental health nurse practitioner (PMHNP).