CEUFast Course Overview: Infection Control and Barrier Precautions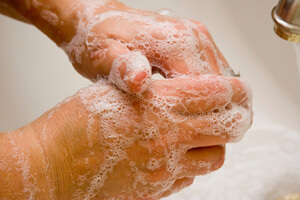 Infection control and barrier precautions go far beyond washing hands.
CEUFast Course Overview: Infection Control and Barrier Precautions
If you are practicing medicine in New York state, you are required to take infection control courses every four years at a minimum. You must also submit proof that you have taken and passed your infection control and barrier precautions course to the state Department of Health. If you fail to do so, you will lose your license. If you are working long shifts and/or raising a family at the same time, it might seem impossible to find the time to take an infection control course. Fortunately, CEUFast offers an NYS infection control course online so you can get the certification you need while you're at home.
Taking an NYSNA infection control course has importance that goes beyond your professional nursing licensing. Patient and personal safety are the real reason why you should take this course on a regular basis. The purpose of an online infection control course is to remind us all of the numerous dangers our patients and we face in the clinical environment, as well as proven new measures designed to ensure patient and health care professional safety. When working in medicine, it is critical to take all necessary precautions to ensure that everyone is protected from infection and disease transmission.
When you complete the CEUFast NY state infection control course, you will have a comprehensive understanding of all scientifically accepted infection control standards. You will also be able to identify transmittable diseases and learn strategies to prevent cross-contamination; this includes understanding infectious blood-borne pathogens. Part of learning how to prevent the spread of contagious disease is understanding how to use all protective equipment properly and how to clean, disinfect, and sterilize properly. You will learn all of this if you take CEUFast's online infection control course.
Nurses are not the only medical professionals who will benefit from taking this course. All medical professionals, including doctors, physician assistants, dentists and dental hygienists, medical students, and medical residents, are required to take infection control and barrier precaution courses. It is required by the New York state departments of Health and Education. If you are a licensed medical professional, you need to take an NYS infection control course online or in the classroom. If you take CEUFast's course, your curriculum will include:
The definitions of disease transmission, including contact and airborne transmission

Antibiotic-resistant organisms

Prevention, precautions, and proper hygiene around patients

Proper immunization

Developing and maintaining a safe clinical environment

Safe equipment use, including what is reusable and what is one-time-use only

The different types and transmission methods of pneumonia, a common concern in the clinical environment

A complete understanding of other communicable diseases, including health-care-related diseases and influenza

The steps to take when one has been exposed to any infectious condition
As you can see, CEUFast's NYSNA infection control course is all-inclusive, covering what you need to know, what you can do to prevent infection, and what you should do when prevention fails. Having a comprehensive knowledge of infection control and barrier precautions protects your patients and you. Don't forget, you're more vulnerable to infectious disease than most others are because you are exposed to it on a regular basis. You literally have a hands-on approach to handling infectious organisms every day, so it's critical for your own safety that you understand how to handle this facet of patient care properly.
If you are a medical professional practicing in New York state, I encourage you to enroll in CEUFast's NY state infection control course. This course is specially designed to teach you all about infectious control and barrier protection and the New York state laws by which you are bound. I believe that this course is necessary for more reasons than to just to keep your license active: This course is necessary to keep your patients and you happy, healthy, and safe.