A How To "Step-By-Step Guide" for Florida Nurses Renewing Their License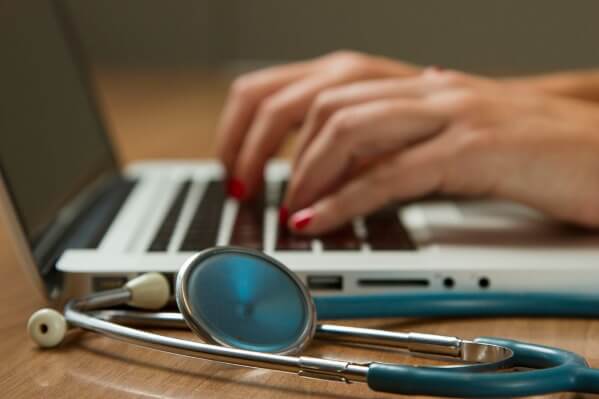 The renewal period for Florida RNs in group 2 is coming up and there are quite a few stipulations Florida nurses must comply with in order to successfully renew their license.
In an effort to keep things as simple as possible, CEUfast has taken this opportunity to develop a how-to guide that can also function as a checklist for all Florida nurses.
In this How-To Guide, we will cover what your contact hour renewal requirements are as a Florida Nurse, navigating CEUfast's site search, adding your Florida license to our database and renewing your Florida nursing license.
So if you follow CEUfast's step-by-step guide below, your renewal process will be a breeze.
Identify What Courses You Need to Take This Renewal Period
Florida Nurses must complete 24 contact hours within two years by their renewal deadline (either April 30 or July 31 for RNs and July 31 of odd years for LPNs).
Each renewal period, RNs must complete:
- Two (2) hours on Prevention of Medical Errors
- Two (2) hours on Florida Laws & Rules-
Every third renewal, you must take the following course in addition to your 24 hour general CE requirement, which would be a total of 26 contact hours for that renewal period:
Two (2) hours on Domestic Violence
Florida nurses are only required to take the following course once, and it must be completed before their first license renewal.
One (1) hour HIV/AIDS
[Beginning August 1, 2017, Florida nurses will be required to complete the following course every other renewal period (four years). Registered Nursing Group 1 will be the first group required to have the new CE for the renewal period ending April 30, 2018.]
Two (2) hours on Recognizing Impairment in the Workplace

Find What Courses You've Already Taken and How Many Contact Hours Are Needed
If you're a CEUfast user, you will want to make sure you aren't wasting your time reviewing courses you've already taken and you will want to know how many courses you will need to meet your 24 contact hour renewal requirement.
Step 1. Login to your CEUfast account using your username and password.
(If you've forgotten your password, click the "Forgot Password?" link, then enter the email address you used to register in the next field when prompted and we will send instructions on how to reset your password.)
Step 2. In the upper right hand corner, click "My Account", then click "Go to My Account" from the dropdown menu.
Step 3. In the transcript section, you will notice "completed between". It's important to put the date range of your renewal period to get an accurate total of how many hours will count toward the current renewal cycle. Otherwise, it will only show courses you've completed in the last two calendar years by default, and that may reflect contact hours that fell into the previous renewal period.
* Meaning if July 30, 2016 is your renewal period, then you would set the search perimeters from August 1, 2014 to July 31, 2016.*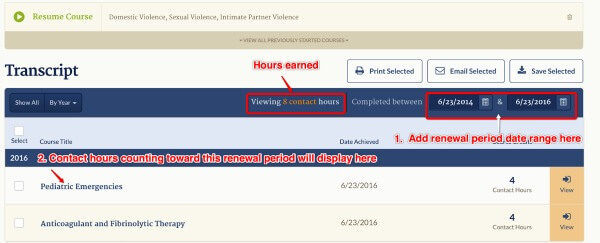 Step 4. Take notice of the courses you have already taken and how many contact hours you've earned. In the screenshot above, you can see that 8 contact hours were earned. For a Florida nurse, this means that you would need to complete 16 more contact hours to meet your 24 contact hour renewal requirement.
Make Sure Your Account Is Setup For Automatic Reporting to CE Broker
If you haven't already done so, be sure to add your nursing license number to your account to enjoy the convenience of CEUfast reporting your contact hours to CEBroker!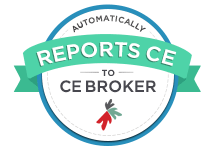 Unlike some other CE providers, we report your CEs the moment they're completed, not a couple days or weeks later.
To take advantage of this, you can either go to the upper left corner of your "My Account" page, where you should see the following "add your license" prompt:

Click the link and follow the instructions.
Or you can do it like this:
Step 1. Click the "My Account" page drop down menu after logging in and select the "Edit Profile" link.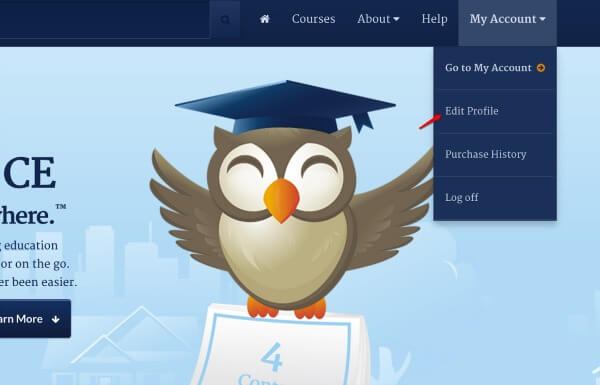 Step 2. Scroll down the page to "My Licenses" and click the "Add License" button. Select your profession code, enter your license number, and click the "Add License" button at the bottom of the page.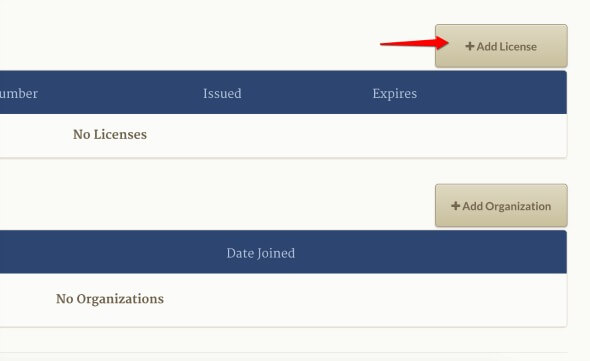 As long as the license number you provided matches what CE Broker has on file, your account will be validated and ready for automated reporting. Any certificates that you've earned from CEUFast.com previously and any that you will earn moving forward will be automatically reported to CEBroker.com.
If after taking these steps you still are having trouble, contact our help desk at ceufast.com/help, providing your license number, issue and expiration dates. We will be happy to add the information for you.
Finding the Courses You Need
Navigating our 100+ course catalog is extremely easy.
Click on the courses menu or visit ceufast.com/courses to access our Course Library.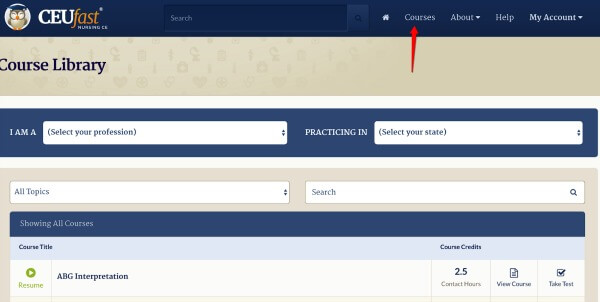 There are a few ways you can find courses.
You can view applicable CEs by selecting your profession in the "I Am A" dropdown menu, and selecting your state in the "Practicing In" menu. This will display see all of the courses that count toward your profession (RN, LPN, CNA, etc.) and your state's requirements.

You can also courses by general CEs that you're interested in or topics that pertain to your license, such as the "Florida requirements" topic by making a selection from the "All Topics menu, and all of the courses in that category will populate.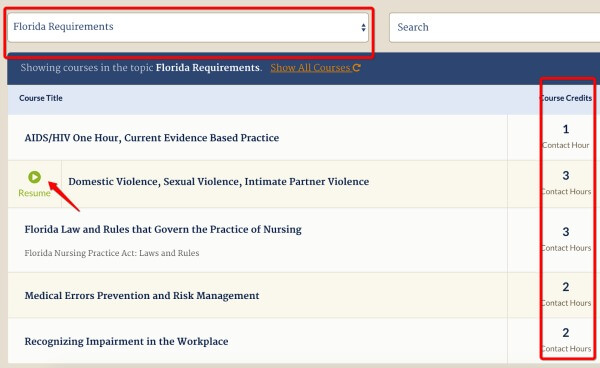 If you want to find a course related to a specific topic, you can use the direct search, located to the right of the All Topics dropdown menu.
To view a course, click on the title of a course or click the "View Course" link. You will be taken to a course preview page that provides an overview of the course, what professions the course is applicable for and any special accreditation information.

To start a course click the "Start Course" button at the top of the course preview page.
When you're ready to test, you can start it here. You can stop and start as often as you need to, we will bookmark your place so you can pick up where you left off on any device.

If you happen to be in the process of taking a course that comes up in your search, you will notice a green Resume button that will allow you to jump back into the course wherever you left off.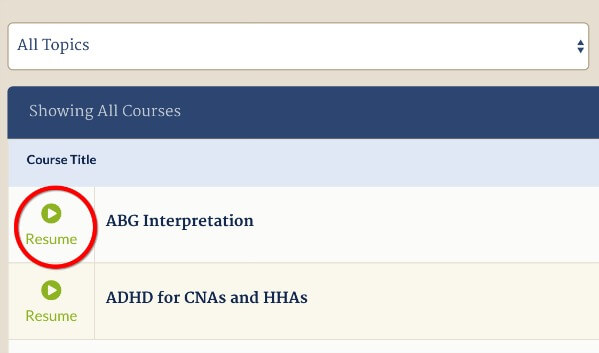 Once you're finished and you've passed your test with 80 percent or better, your CEs will automatically be reported to CE Broker, and you will receive your certificate, which will live on your CEUfast account for six years.
When you have completed all of your CEs, you can renew your license on the Florida Board of Nursing.
And that's it! How easy was that?
Be sure to share our guide with your healthcare worker friends and family!