Trust in Each Other
Written by Jennifer Esparza, BSN, RNC-OB, C-ONQS, C-EFM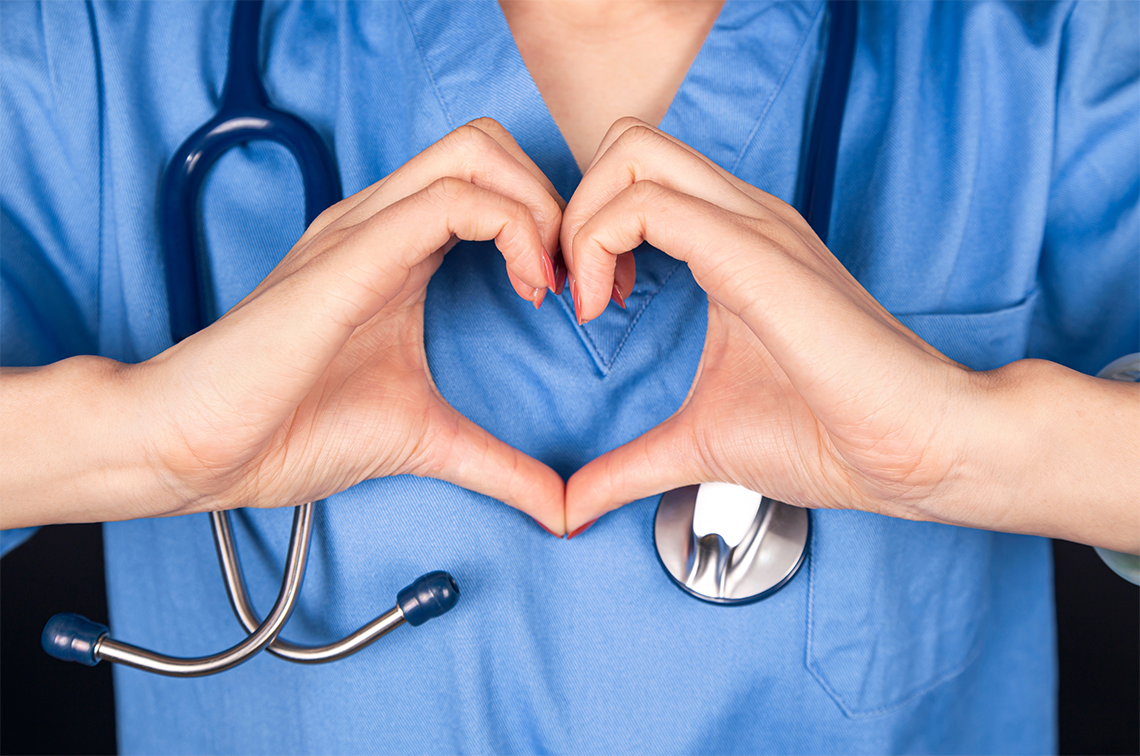 As nurses, we do what we can to help others heal. When we have family who are sick or injured, we have our heart that is affected as part of that injury – something like a second victim. This feeling is amplified and present, especially when a sibling, parent, child, grandchild, or spouse is involved because you know the clinical picture and the possible outcomes. You cross a line from being a family member to being a professional with clinical knowledge in your thinking. However, where do you stop talking clinically and simply feel? When do you let go of the decisions that come with the care? When do you give up the caring of your family member to your coworkers? How can you trust the ones you do not know to care for your family?
The lucky ones among us will never know how to answer those questions and never experience a loss from an accident, overdose, or birth trauma. However, when you go through this, it is all you can do to keep from taking over the care. It is all you can do to stop trying to "fix" things.
I have recently sat at the bedside of my little brother in the ICU and later in his hospital bed in hospice. He was intubated for a week, then extubated when I advocated for his wishes. He spent another week in hospice waiting for his breathing to stop with palliative care ordered. He had injured his body too detrimentally with his lifestyle to recover, and his brain injury from a hemorrhage was the cause of his ultimate prognosis. I knew the possibilities, the outlook, and the plan of care. I am a Labor and Delivery Nurse, but I know how things work because I went to nursing school, too. I have ICU friends, had patients who had to transfer there, and saw family and friends there.
I know medicine, as a nurse with high-risk patients should know. I could tell any nurse I knew his outcome with a simple look. I could do nothing to fix this, not as a nurse and his older sister – the most I could do was be his voice. The best I could do was to be a buffer between this unfamiliar team and my family, who would continue to hope and pray for a better outcome. They would question all information given to them by the clinical teams and not understand as someone with my knowledge would because they continued to hope they were wrong.
My brother was in a different city and another hospital system. The control we imagine we have in our hospitals with our own team gives a certain security and peace. They are your second family and have your back. I deliver their babies and grandbabies. I take care of their daughters and wives. I know they have my family in their best interests, too. But in a different place with a different crew, I had to keep my big-sister nurse anxiety in check. I prayed daily that this other system would know everything and use the same bundles and care for this one brother of mine the way my work brothers would. Every day, I knew it would be a miracle for the prognosis to change despite their care and best efforts.
I had to remind myself often that I am his sister, not his nurse, and that I needed to be there for the rest of my family as a daughter, sister, and aunt instead of the clinical person I have adopted as a coping mechanism. I also had to continue to be my brother's advocate. When my mother was weary during the process of waiting for him to pass on, she questioned if hospice was the right answer. The angel of caring came from a palliative care nurse who had words my mother could accept and understand. She explained, as kindly as possible, the clinical picture I had seen since day one. She allowed my presence in their conversation to help gauge my mother's understanding. She spoke words that were hard to hear – even for me – because this was my brother, too.
That day, I knew this team had my back no matter where we were. They accepted I was one of them in our healthcare family and were thankful that I could understand the situation and help with his bedside care. When he passed on day five, the nurses caring for him hugged me first.
We were their family, too.
Our loss was their loss, too.
When my brother's time in this hospital was over, I remembered to thank this team – knowing he was not just another assignment to them.
About the Author:
Jennifer Esparza, BSN, RNC-OB, C-ONQS, C-EFM, has been a Peer Response Leader of Code Lilac in the Memorial Hermann Hospital System since November 2019. She has been a Labor and Delivery Nurse for 19 years, with almost 14 years at Memorial Hermann Southeast Hospital. She does not hold any administration role other than Charge Nurse, though she participates in many councils to improve their campus goals and accreditations, including Magnet designation. Jennifer also has three daughters, one of whom works with her unit as a Unit Coordinator role, non-clinical, and two grandchildren.
Jennifer is an independent contributor to CEUfast's Nursing Blog Program. Please note that the views, thoughts, and opinions expressed in this blog post are solely of the independent contributor and do not necessarily represent those of CEUfast. This is not medical advice. Always consult with your personal healthcare provider for any health-related questions or concerns.
If you are interested in learning more about CEUfast's Nursing Blog Program or would like to submit a blog post for consideration, please visit https://ceufast.com/blog/submissions.