Why Choose Nursing as a Career Path?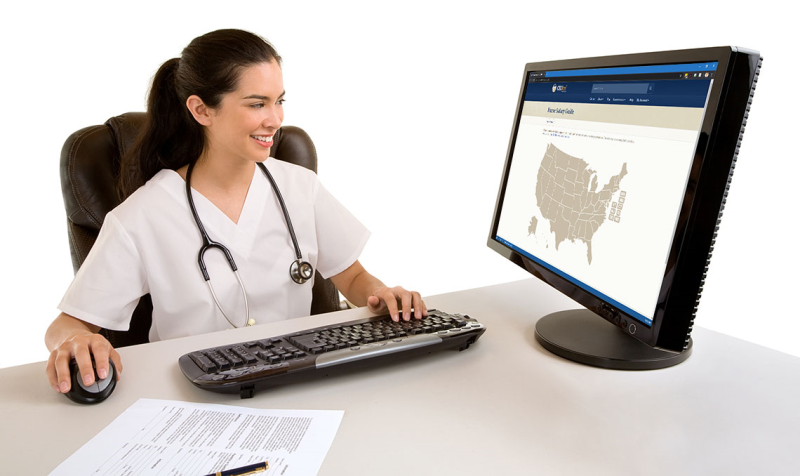 As a youth, it's fun to fantasize about what you want to be when you grow up, such as a doctor, lawyer, teacher, engineer, nurse, or entrepreneur. While it seems like a far stretch at the time, the people you surround yourself with and are exposed to, begin to mold your personality and shape your future.
So, maybe you're better at math and science than most, and you're looking for a career in the medical industry? Maybe you picked up a stethoscope when you were young and thought to yourself: I'm going to become a nurse!
But why do people choose the nursing profession? With all the stress, tiring late-night shifts, demanding hours, and the endless patient interactions, why would people choose to go into this particular profession? Well, we have a few answers:
1. Variety of Workplaces
While the most common place to picture a nurse is working at a hospital, did you know that there are more diverse options for nurses, than many professions? Nurses can work directly or indirectly with patients, depending on what types of roles they choose to take. Working directly with patients involves a hands-on approach, while working indirectly with patients can take on a more managerial or administrative role in the workforce.
Although it's common to find a nurse working in the hospital setting, nurses can also work in a variety of healthcare settings such as in skilled nursing facilities, outpatient settings, physician offices, clinics, insurance companies, government, community health, elementary or high schools, universities, correctional facilities or being an author for a continuing education provider.
2. Flexible Scheduling
When choosing to become a nurse, many times, the upside to this career is that you can work flexible hours. Instead of working a 9-to-5 job, nurses can find shifts that range between four and twelve hours a day, making your schedule fit whatever you feel works best. It's also nice to have these accommodations when you're going to school or have a second job.
3. Making a Difference
As a nurse, when you clock in for a shift that day, you can almost bet that you're going to make a difference in someone's life. Whether you're helping a patient overcome cancer or you're bandaging someone's finger from a minor accident, you are helping make the world we live in a better place.
4. Room for Growth
There's room for growth in almost any aspect of the nursing industry. If you don't like the direction you're heading in, you can always modify your specialties and follow your passions. If you find that working with children is what you enjoy most, you can switch to a pediatrics department or office. Or if you need a little more excitement in your life, there's always adrenaline-pumping scenarios happening within an emergency room at the hospital.
As a nurse, there's almost always a step-up in the department where you work, so maybe going back to school to earn an extra degree and certification or two is the next step you need to follow your passion.
5. Good Wages
Lastly, but possibly most importantly, nurses make good wages. The national average for a registered nurses is around $52,000 a year. And with more experienced and specialized nurses, you can earn up to and possibly over $72,000 annually. However, salaries for various nursing positions differ from state to state.
Thankfully, we now have a new feature such as the CEUfast Nurse Salary Guide to help see how much you could possibly earn while practicing your nursing profession anywhere in the United States.
While using the guide, you can simply choose a state by using the top left menu or by clicking directly on the state that you're interested in viewing. For example, if you want to see how much a nurse makes in the state of Georgia, scroll to the state in the menu or click directly on the map. From there, you can scroll through the page and find the salary comparisons broken down by profession and by region.
Perhaps you are interested to see if nurses in the neighboring state of Florida would better fit your financial goals, you can easily navigate to another state page by clicking on the upper left state drop down menu. The CEUfast Nurse Salary Guide will easily provide you all the statistics and comparison information you need to make your decision on where to practice your nursing profession.