So, let's say that you come into contact with a doctor or a nurse that tests positive after accidentally being exposed to a positive COVID-19 patient, what next? According to the Centers for Disease Control and Prevention (CDC), there are different stages to monitoring your potential symptoms and depending on the severity of the situation, you may be asked to self-isolate at home for a certain amount of days.
As millions of Americans, and people around the world, are self-isolating to help prevent the spread of this potentially harmful virus, it's become obvious that people are running out of ideas to keep themselves entertained at home. As many states around the country began shutting down "non-essential" businesses, people are having to find other ways of keeping busy while hunkering down at home and staying safe.
Depending on your living situation at home, it may be tough to find things for your entire family to enjoy. Or maybe you have to take a step further and self-isolate from your family members or loved ones during these tough times. Whatever the case may be, there are a few things that you can do to help pass the time while these dauntingly long social distancing rules remain in effect.
So, while you're doing your part at home, isolating from others and staying safe, we've come up with a couple of solutions to temporarily ease your boredom.
Keeping in Touch, Virtually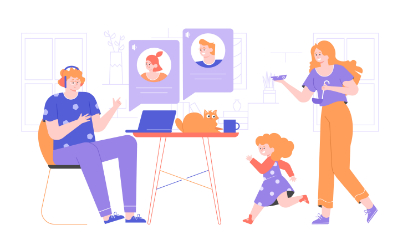 Other ways to take control over your long, social distancing days ahead could include sprucing up things around your house or apartment, getting outside and taking care of your yard and garden, taking your dog for a walk around the neighborhood, and even picking up a new book to read, quietly at home.
For many households around the world, school closings have forced parents and guardians to not only work from home, but to also keep their children up-to-date with all their schoolwork. Especially for households with more than one child, this can be a daunting task and may take up a majority of your day.
So, whatever the situation may be, it's important to keep yourself virtually connected to your family and loved ones during these hard times, as well as take the time to enjoy the things around you. And remember, you're not alone. Even though being isolated for long periods of time could be the ultimate test of our patience, it's vital to help slow and eventually stop the spread of this potentially harmful virus. So take the time you have now to learn a new skill, get to know your children better, or take the dog for extra walks around the neighborhood. After all, this is only temporary and life will eventually go back to normal.