Spring Cleaning, Nurse Style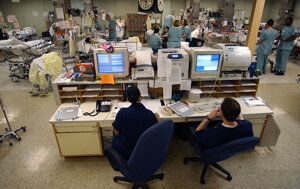 Spring is in full swing, flowers are in bloom and people are outside, smelling the roses…and breaking their bones.
While that means more patients and more paperwork for you, it shouldn't have to mean neglecting other things that come with the season, like a good old fashioned spring cleaning!
If you've already gotten a handle on spring cleaning this season, then a hearty kudos to you.
But if you're like many nurses, you may not have found the time to tackle the task yet.
Cleaning may not sound like the most exciting thing in the world. After all, it's just another thing to take care of on your ever growing to-do list.
However, we don't spring clean because it's a fun thing to do; it's more about the benefits that come with it--- a reorganized space, de-cluttering your mind, and a sense of renewal.
With your busy schedules in mind, we've gathered a few ideas that should make it easier to get the benefits of spring cleaning without derailing you from your responsibilities.
In between your patients, or on those rare spare moments during your lunch break, knock off these tasks, one at a time: