Do Your Job and See the World: Opportunities to Nurse Abroad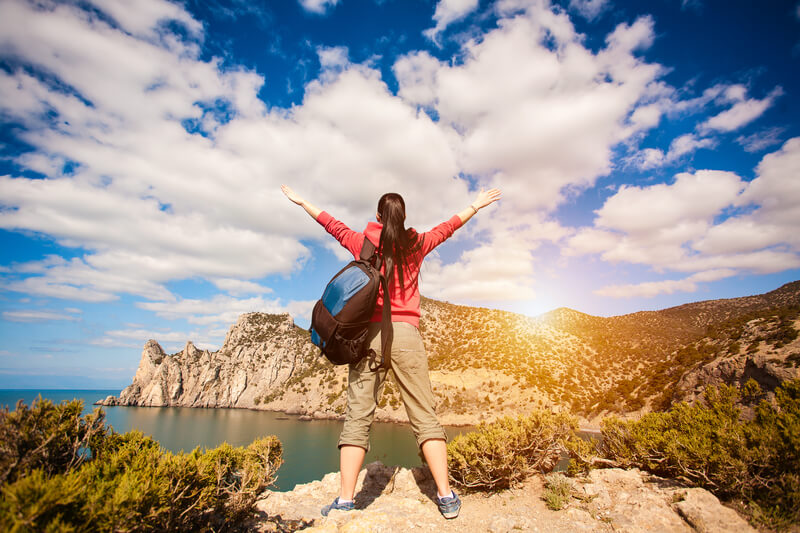 A recruiter once asked prospective hires: "If you were given $3 billion and told you could do anything with it, what would you do?"
How would you answer?
If "travel the world" or "travel somewhere I've always wanted to go" are on your list of things to do, here's some great news: you can get paid to see the world. No $3 billion check required.
The gig is called nursing abroad, and the job description varies: durations last from weeks to years, duties include anything from talking with patients to handling scalpels, and the world is covered, from Argentina to Zimbabwe. Nursing abroad means you're helping address the international nursing shortage and learning in the process—not to mention going on exotic trips on your days off.
If you're tired of the same old scrubs in the same old hospital, you might consider expanding your horizons by offering up your services in a new part of the world.
Why practice nursing abroad?
Nursing abroad offers an extraordinary nursing experience with "touristy" activities on the side. Practicing nursing abroad not only means you provide help to those who desperately need it — it makes you a better nurse and person, and is an overall life-altering experience.
There's a worldwide shortage.
According to WHO, "the world will be short of 12.9 million health-care workers by 2035." In 2013, that figure was 7.2 million. You may think to yourself, "No wonder my colleagues and I are so busy!" But read this fact: "More countries have increased their health workforce, progressing towards the basic threshold of 23 skilled health professionals per 10,000 people, [but] there are still 83 countries below this basic threshold." There are eighty-three countries with fewer than 23 health care workers per 10,000 people. On the high end, that could mean two healthcare workers for every 1,000 people. On the low end, the figure is even more grim.
The US boasts 1,937 nursing schools. By contrast, "in the 47 countries of sub-Saharan Africa, just 168 medical schools exist." There simply aren't enough trained nurses in these countries to tend to medical needs, particularly for the elderly, disabled, children, and victims of discrimination. Depending on your destination, as a nurse abroad you'll have the satisfaction of knowing that you're helping people who would otherwise continue to suffer.
You'll become a better nurse and person.
Nursing abroad gives you "invaluable ... experience unobtainable from a lecture hall." Whether you serve in a rural countryside or a dense metropolitan area, you'll learn to appreciate other cultures, meet new people, and solidify your nursing skills in an unforgettable environment.
Setting aside work for a moment, simply living in a developing country helps you develop soft skills necessary for nursing. While living in a developing country, you're more likely to encounter social injustice, poverty, corruption, and despair on an everyday, close-up basis. Facing these elements helps you develop empathy, awareness, and open-mindedness.
Additionally, working as a nurse in a developing country broadens the skills-base through exposure to treatment of diseases not commonly found at home. These could include leprosy, malaria, and HIV. You may even get the opportunity to empower locals by teaching them nursing skills and English.
Working in a developed country has its benefits, too. You might think that Australians and Americans, for example, are pretty much alike, but living there will quickly teach you that there are subtle but significant cultural differences. Being sensitive to these subtleties can help you develop the insight that separates excellent nurses from the rest.
Another benefit? If you're looking for employment or to further your education, nursing abroad makes you a great proposition for recruiters. To them, working abroad "demonstrates dedication and a real drive to enter the industry."
Where are these opportunities and how do I begin?
Many nursing abroad programs will pay you, but there are also opportunities to nurse abroad on a volunteer basis. Depending on your experience and needs, volunteer opportunities may be your best fit. Many volunteer programs offer accommodation, meals, and even pocket money, so you don't have to worry about funding everything yourself. Here is some information about paid and volunteer opportunities to nurse abroad, with further resources listed at the end of each section.
Paid Opportunities
Why work in Australia?
Who hasn't dreamed of traveling to Australia? From the white sandy beaches and abundant eucalyptus trees; to the Sydney Harbour Bridge and vibrant city life, Australia is the place to be. If English is your first language, you won't have to worry about the language barrier (maybe just a slang barrier). Australia is a developed country, so you'll be able to perfect your skills with technologies and practices learned in the US. Also, the average yearly salary of a nurse in Australia is around $51,500, so you'll definitely be able to fund your travels around the beautiful country.
What would I be doing?
You'll be part of The Australian Nursing Agency (ANA), which means you will be in control of the facilities at your place of employment. You'll choose work from the following areas:
General acute medical and surgical
Mental health, forensics, and correctional services
Critical care
Pediatrics
Operating theater
Midwifery
Emergency department
What are the requirements?
To qualify to nurse in Australia, you must first contact the Australian Government Department of Immigration and Border Protection. You will also need the following:
A current or pending registration with AHPRA (Australian Health Practitioner Regulation Agency)
A valid Working Holiday visa or Permanent Residency visa
A minimum of 12 months of postgraduate nursing
Why should I work at a ski camp in Switzerland?
Crystal clear water, lush evergreens, and snow dusted peaks ... does that sound like heaven, or what? Not only is the Swiss scenery beautiful, but the skiing is great. It can also be dangerous: when international schools bring their students to the Alps for skiing lessons, they need nurses to take care of any injuries that might occur. You'll meet people from different backgrounds, establish lasting friendships, and spend a winter in one of the most beautiful places in the world.
What would I be doing?
You will be responsible for the health and well-being of students, chaperones, and staff. You'll spend your days doing the following:
Assisting with the daily ski and snowboard program
Treating minor injuries and health issues
Coordinating treatment with local medical facilities for any more serious injuries
Participating in a program of evening activities
Supervising meals
Fulfilling other duties related to the well being of participants
What are the requirements?
This job isn't for every nurse. Firstly, you have to be able to ski at an advanced level, and here are some other requirements:
Internationally recognized nursing qualification
First aid and CPR qualification
Valid driver's license and ability to drive a stick-shift vehicle
Experience supervising and motivating children
At least 21 years of age
Fluent in English
Why work in Ireland?
From four months up to two years, Ireland would be your home! Experience the oceanside cliffs, green everything, and the lovely lilt of the locals. USIT Travel helps you apply for the job of your choice, find accommodation, and do your taxes. Plus, they organize social events, so you'll never be short of entertainment.
What would I be doing?
With programs in nursing, general medicine, health administration, health sciences, and physical therapy, you have a wide range to choose from. Contact USIT for more information on the program you're interested in.
What are the requirements?
If you're an American citizen, you must be working towards a degree or have graduated within the last twelve months. To apply, you'll have to fill out an online application, turn in a resume, do a phone or video interview, and submit a written application.
For more paid nursing opportunities, see these links: International Travel Nursing, Gap Year, and GoAbroad.
Volunteer Opportunities
Why work in Guatemala?
Besides its rich history and beautiful vistas, Guatemala is known for its kind and generous people. This program is available year-round and you get fed breakfast and dinner each day. On top of that, you'll be able to take Spanish lessons and practice speaking with the locals.
What would I be doing?
Medical care in the rural areas of Guatemala contrasts sharply with the higher level of care in big cities. You will work with local doctors and nurses in orphanages and small clinics for the poor to provide checkups and basic medical care. Duties vary depending on your experience level, but may include the following:
Taking vitals
Making and cleaning beds
Sterilizing equipment
Cleaning wounds
Assisting doctors in taking physicals and histories
Giving vaccinations
Providing basic assistance with physiotherapy
What are the requirements?
Requirements vary based on your duties, and the jobs you're offered will vary based on Spanish ability, age, personality, ability to take initiative, program duration, and expertise. Applicants must be undertaking medical or nursing training or be a qualified medical professional.
Why work in South Africa?
Cape Town, South Africa, is a colorful city with stunning views and endless opportunity for adventure. You'll be placed in a program based on your professional goals or field of study, so the trip will definitely enhance your education. Additionally, the Bridging Gaps team helps you plan your trip, so you can focus on the nursing side of things.
What would I be doing?
This program offers a broad range of opportunities, so what you'll be doing depends on the your program. Available programs include the following:
Clinical observation
Nursing
Dentistry
Physiotherapy
Psychology
Occupational therapy
Speech therapy
Pharmacy
Nutrition
Health promotion and education
What are the requirements?
No experience is required for this program, and English is one of South Africa's primary languages, so you don't have to worry about that either.
Why work in India?
As most people know, the energetic cities, vibrant culture, and kind people make India a fantastic place for anyone to visit. But as a healthcare worker, you'll learn volumes about how India's healthcare system keeps up with its quickly-growing population. Additionally, this program is available year-round, so it's easy to fit into your schedule. IVHQ offers airport pickup, orientation, accommodation, meals, and 24/7 in-country support, so you can focus on the main reason you came.
What would I be doing?
You will shadow and learn from respected physicians, but government regulations mean you won't be able to perform tasks independently. Here are some of the tasks you will be able to assist with:
Taking vitals
Providing nutrition, health, and sanitation advice
Treating minor injuries
Cleaning and bandaging wounds
What are the requirements?
Upon arrival in Delhi, you must present to the IVHQ staff your practicing license/certificate or proof of medical study. You must be 18 years old or older (unless you are volunteering with a parent or guardian), have volunteer travel insurance, and provide a criminal background check.
For more volunteer nursing opportunities, see these links: International Volunteer HQ, Gap Year, and GoAbroad.
Give what really matters — your time.
The World Health Report stated that the goal for the global healthcare worker shortage is getting "the right workers with the right skills in the right place doing the right things." You're definitely the right worker, and you have the right skills, but are you in the right place doing the right things? Consider nursing abroad. The life-changing help you can offer will change your life for the better, leaving you more skilled, confident, and inspired.